AYC-M6355, 13.56MHz Mifare and NFC Compatible Card Reader and Keypad
AYC-M6355, 13.56MHz Mifare and NFC Compatible Card Reader and Keypad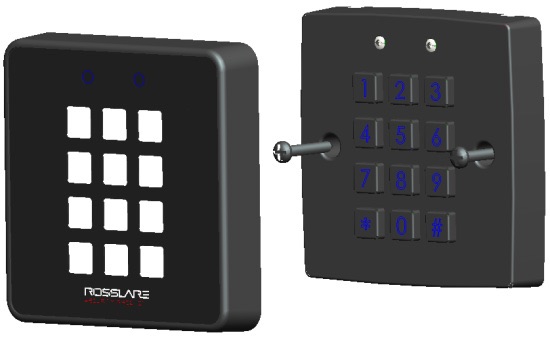 CSN SELECT ™ AYC-M6355 multi-ID technology is a part of the family of readers with illuminated keypad for use in contactless smart card (13.56 MHz) access control system solutions and incorporates Rosslare convertible technology. The reader has the flexibility to read the Card Serial Number (CSN) from many smart card RFID standards such as ISO14443A / B, ISO15693 and ISO18092, perfect for switching from one technology to another. With its UV resistant and IP65 sleek and modern design, the reader can be used easily in any loading environment, indoors or outdoors.
GENERAL DESCRIPTION
The standard AYC-x6355 readers are configured to read the CSN of the most popular smart cards in the security industry, as well as NFC compatible Android smartphones, and output the CSN in Wiegand format. Dual-authentication is available when both RFID smart cards and keypad PIN entries are combined.
Four individual control lines provide green LED control, red LED control, and buzzer control inputs, as well as an output for the optical wall tamper detector. The readers can communicate with host controllers that support the Open Standard Device Protocol (OSDP). With convertible technology, the AYC-x6355 can automatically become a 500-user secure standalone controller when attached to a PS-x25T secure series intelligent power supply.
Reader Features
Transmission Format
26Bit Wiegand.
Access Control System Specifications
Product Type
Reader.
Card Type
Mifare 13.56Mhz & NFC
Reader Type
Works with Access Controller
Operation Type
Card or Card+Pin
Panel Connection Interface
Wiegand
Operating voltage
12VDC
Protection Class
IP65
Reading Distance
9cm