HID Mobile Access
HID Mobile Access: Smartphones and Clocks, Now Your Access Card
HID Mobile Access is leading the way in today's mobile world with solutions that support the needs of the organization.
HID Mobile Access® is a dynamic, convenient and secure solution for opening doors using smartphones and smart watches. The solution that supports NFC (Near Field Communication) and Bluetooth Smart, your phone becomes a card to open remote doors or other waypoints by "touching kapı a door reader or electronic lock, or" Twist and Go in of HID.
HID Mobile Access® provides an overall user-friendly deployment experience by enabling customers to easily publish and revoke their Portable IDs through the HID Secure Identity Services ™ portal and quickly download the HID Mobile App to their smart devices.
HID Mobile Access® provides a consistent end-user experience between devices and operating systems, as well as intuitive portable device / reader interaction. Applications become more powerful when employees, students, or visitors can use their devices in accordance with the applications they have previously adopted. HID Global provides integration tools that allow HID Mobile Access to be deployed in any workplace or enterprise application.
SYSTEM STRUCTURE AND FUNCTIONING

​
---
EASE OF USE
Identification with Smartphone or Smart Watch,




Users often face problems such as forgetting and losing cards. As a system to completely eliminate this problem, Mobile Access allows them to use the smartphone or smart watch they carry with them as a card. In addition, it eliminates situations such as giving the card to someone else.

If a card is lost, adding a new ID to the system requires only the above procedure.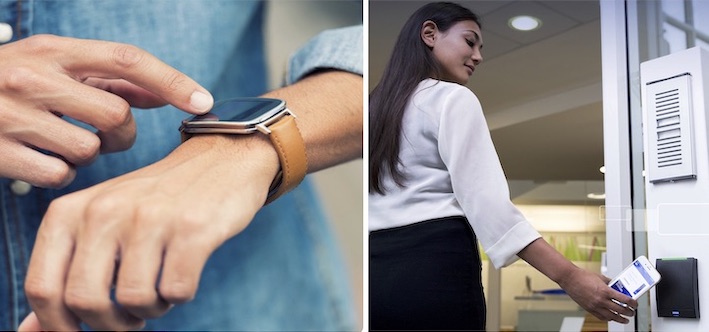 NFC or Twist & Go

HID Mobile Access supports NFC (Near Field Communication). The user can open the doors or turnstiles by touching the NFC-supported Device to the reader. In addition, the Twist & Go movement can be used to open waypoints such as doors or turnstiles from a distance.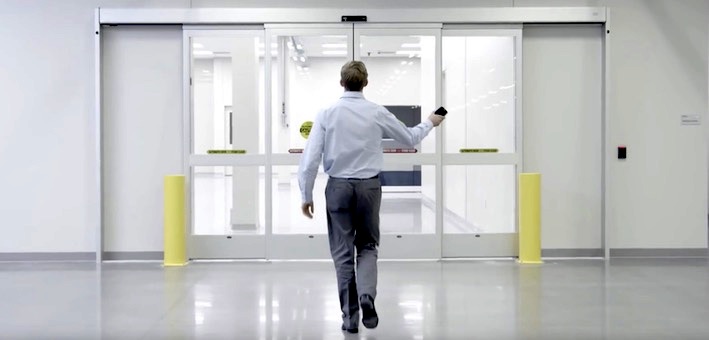 HID MOBILE ACCESS:
R10 and RP10 iClass SE and multiClass SE readers with BLEOSDP-UPG-A-900 Module,

R15 and RP15 iClass SE and multiClass SE readers with BLEOSDP-UPG-A-910 Module,

R40 and RP40 iClass SE and multiClass SE readers with BLEOSDP-UPG-A-920 Module,

With the BLEOSDP-UPG-A-921 Module, it can also be applied to existing RK40 and RPK40 iClass SE and multiClass SE readers.
More Dynamic – Upgrade kit supports HID Mobile Access® now or in the future. ƒ
More Secure – Open Supervised Device Protocol (OSDP) module enables secure communications between reader and controller.
ƒ More Convenient – Permits in-field reader configuration and updates when used with the HID Reader Manager mobile application.
Upgrade existing iCLASS SE® and multiCLASS SE® readers to support HID Mobile Access, more secure end-to-end communication through the Open Secure Device Protocol (OSDP) standard or ability to maintain configuration and firmware updates through the HID Reader Manager mobile app.
The easy to install Bluetooth & OSDP Upgrade Kit consists of a plug-in module and adhesive reflector back plate sticker to optimize performance. Each kit is suitable for upgrading one reader. If your existing readers are one of the above models, you can make your system work with HID Mobile Access. Smartphones and smart watches turn into access control cards. All you have to do is add the BLEOSDP-UPG-A-9xx module to the back of the readers and apply HID Mobile identification.
Bluetooth capability: Enables support for HID Mobile Access, offering a consistent user experience across different devices and operating systems including iOS® and AndroidTM. Readers can be configured to use smartphones with a "tap" or HID Global's patented "Twist and Go" gesture technology to open doors. In addition, Bluetooth enables configuration and update of readers via the HID Reader Manager (IOS ve Android)mobile app, improving the speed and efficiency that readers can be managed and customized to meet customer needs.
OSDP capability: Provides support for the OSDP communications standard, enabling advanced communication and security features for transmission of data between reader and controller.