Railway Transportation
Railway transport is an essential part of any public transport infrastructure. A highly reliable safety system is essential to ensure the safety of passengers. It is therefore important to establish a system that can control various factors in real time, such as facilities and railway vehicles at each station and platform. Hanwha Techwin's solution can prevent accidents and monitor control areas in real time using high-definition video and respond quickly and accurately to hazardous situations.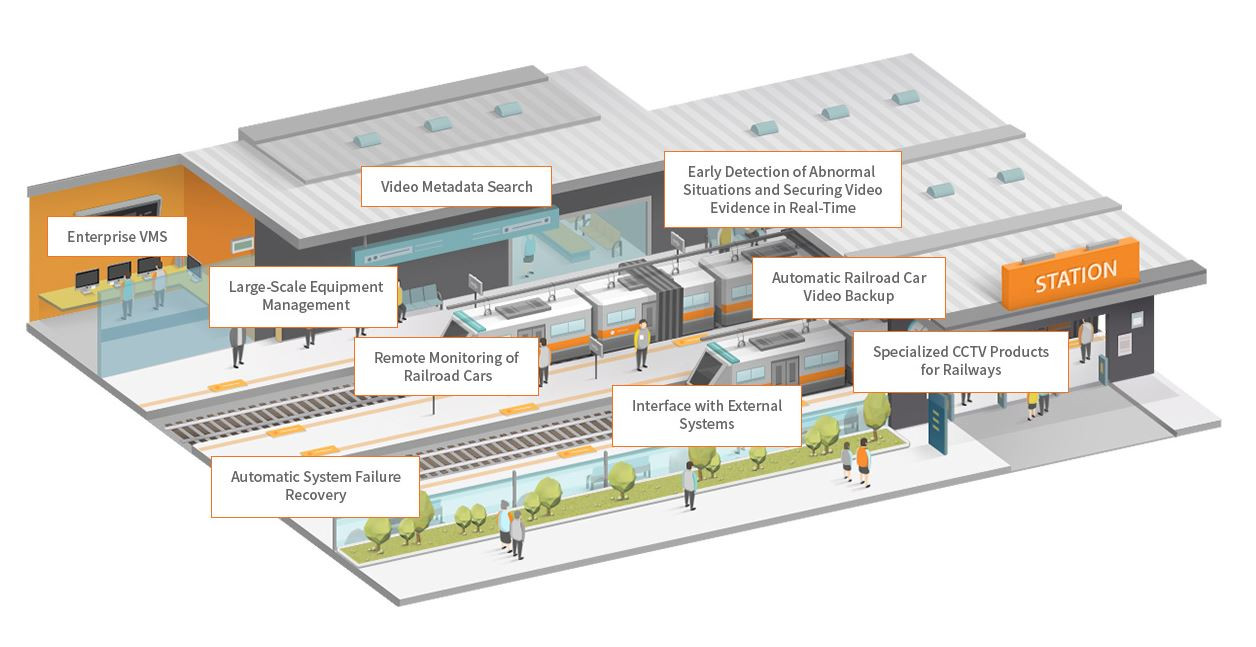 Railway Solution Features
Specially Designed Camera System Products for Railways

ㆍStation and platform-specific standards
ㆍRailway-specific standards
ㆍTotal solution of cameras, storage devices and VMS

High Reliability and Scalability

ㆍ Failover and recovery capabilities
ㆍ Esnek Flexible system expansion with hierarchical configuration
ㆍ Interface with other systems (Card Access System, Fire alarm, etc.)

Customized Railway Vehicle Solution

ㆍ Railway vehicle cameras and storage devices
ㆍ Automatic video backup over wireless networks
ㆍ Real-time monitoring of the location and status of the railway wagon
Special CCTV Products for Railways
From analogue camera systems to 4K network camera systems, Hanwha Techwin offers a wide range of products with the highest reliability in accordance with railway standards such as EN50121-4. In addition, it has developed a range of special products for railways in order to provide systems that can ensure the safety of passengers as much as possible in any environment.
Integrated Control
Monitor multiple stations from one control center
-Integrate and monitor multiple video security systems in target zones from a control center through hierarchical system configuration. System failure can be configured between stations for system failure recovery and an integrated control environment can be created with other systems, such as fire detection and access control systems.
Automatic Backup
Automatic backup of railway vehicle videos over short-range wireless networks
- Since the capacity of the storage devices installed in railway vehicles is small, the data must be backed up regularly on ramps using large capacity storage devices for long-term storage of the data. When a train wagon reaches a designated station, the backup is automatically started over Wi-Fi to a mass storage device. Also, if the train goes before the backup is complete, it can be automatically resumed at the next development.
Real Time Tracking and Remote Monitoring of Trains
Real-time location monitoring and remote control of emergency situations using digital map
- Record storage devices in railway vehicles direct GPS data and status information to a central control center via mobile communication networks. The current location of railway vehicles can be monitored in real time at the central control unit using digital maps of traffic control software and camera images can be controlled in case of emergency.