WISENET Road AI: Intelligent Traffic Management Solutions
Hanwha Techwin WISENET Road AI
In today's world, the operation of highways has become a very expensive. Having information such as the type of passing vehicle, the number plates of passing vehicles, the number of daily crossings, and the busy hours of the crossings in the hands of the operators will provide important criteria in solving many problems from the materials to be used on the highways to the planning of maintenance. Wisenet Road AI is about passing vehicles, whether it's a by-road or a highway;

License/Number Plate Recognition,
Make/Model/Color Recognition

Black/White list notification,
It provides smart search functions based on LP/NP, Country, brand, model, color) information.
In this way, operators can get the information they need from the Wisenet Road AI application.
With powerful edge-based AI, Hanwha Techwin offers a variety of LPR (License Plate Recognition)/ANPR (Automatic License Plate Recognition)/MMCR (Make, Model, Color Recognition) from parking lot access control to large-scale cities for broad-based systems that enable local authorities and police to keep people safe. ) offers a suite of solutions.
Accurate AI based LPR/ANPR and MMCR
The Wisenet Road AI application, which provides a highly accurate License/Number plate recognition and MMCR solution, has been integrated with Wisenet AI cameras:
PNV-A9081RLP, Anti Vandal Dome Type Network Camera,
PNO-A9081RLP, Bullet Type Network Camera,
PNB-A9001LP, Box Type Network Camera.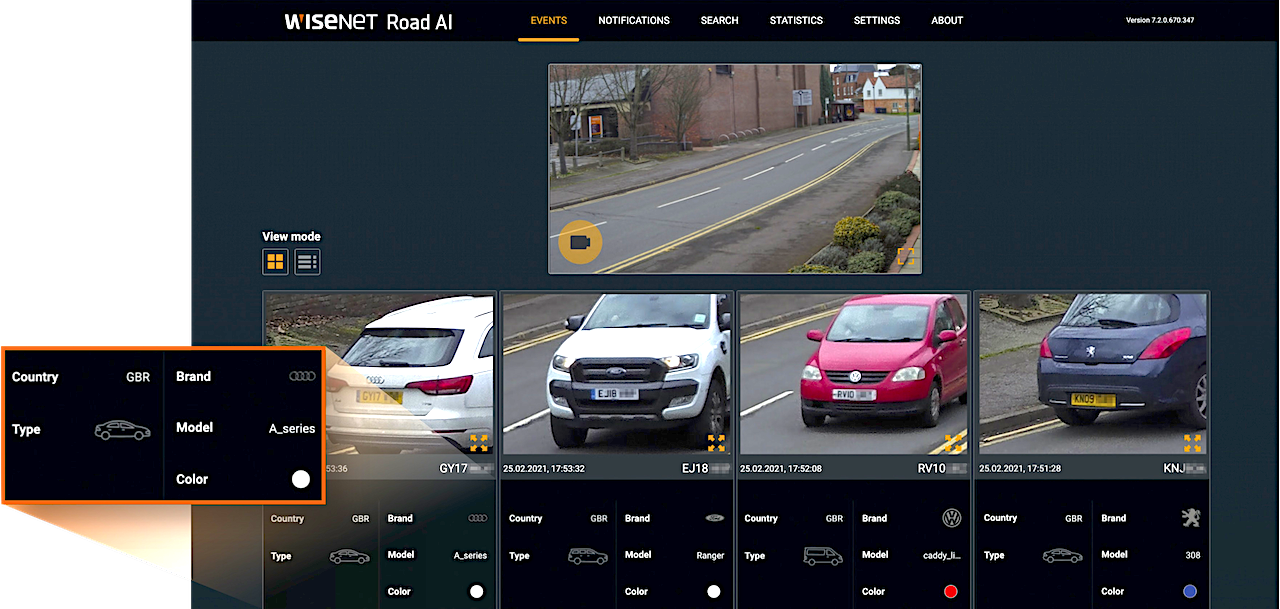 LP(License Plate)/NP(Number Plate) Recognition
Through OCR (Optical Character Recognition) processing, the BestShot images of the License/Number plates are converted into machine-readable text and numbers.
MMCR (Make, Model, Color Recognition)



Powerful AI deep learning algorithm allows recognition of vehicle brands, models, and colors.
Vehicles are classified into 7 types (CAR, SUV, VAN, LCV, TRUCK, BUS, Motorcycle) is also collected for easy and efficient events/object search.
Efficient Smart Search
Search by various options as country, make, model, color etc. Search results are shown max 500 list and can be exported as excel format.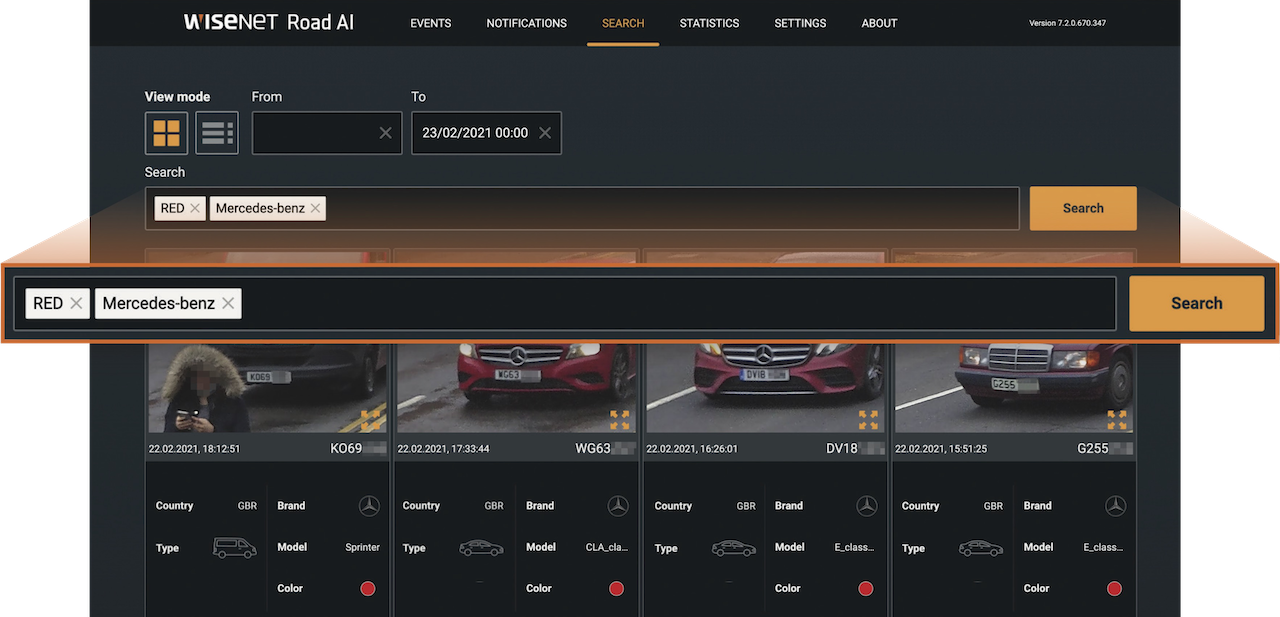 Insightful Statistics
Wisenet Road AI supports various widgets and visual graphs with different parameters to display daily, weekly and monthly traffic statistics. The statistics utilizes the latest 10,000 cars added to the DB.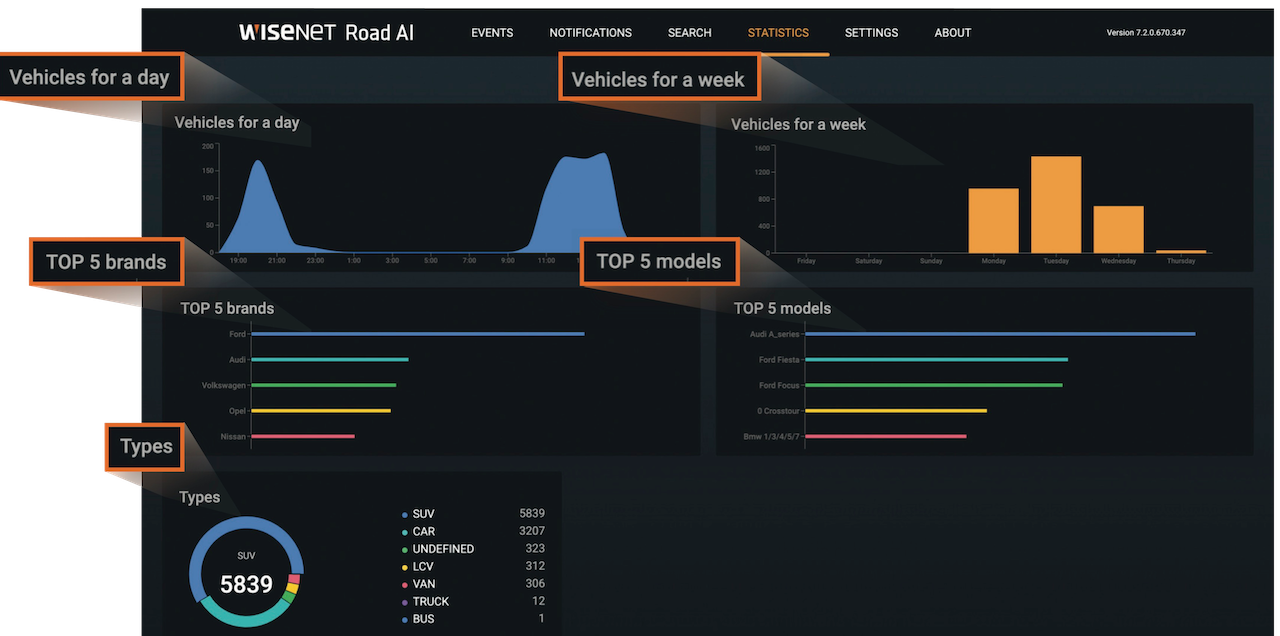 VMS integration
Wisenet Road AI offers seamless integration with various VMS such as Genetec, Milestone and Wisenet Wave, Wisenet SSM. The flexibility of integration gives boundless potential to be applied at any project to fulfill various customers needs.
---
---

Genetec İle Milestone İle


Available Countries
Albania, Armenia, Austria, Belarus, Belgium, Bosnia and Herzegovina, Bulgaria, Cyprus, Czechia, Denmark, Estonia, Finland, France, Greece, Germany, Hungary, Ireland, Iceland, Italy, Lithuania, Luxembourg, Latvia, Montenegro, North Macedonia, Malta, Netherlands, Norway, Poland, Portugal, Romania, Serbia, Slovenia, Slovakia, Spain, Switzerland, Turkey, United Kingdom, United States of America, Canada, Russian Federation, Azerbaijan, Uzbekistan, Ukraine, Kyrgyzstan, Kazakhstan, Tajikistan, Georgia, Turkmenistan, Australia, New Zealand, Hong Kong, Indonesia, Vietnam, Taiwan, Bahrain, Kuwait, Oman, Qatar, KSA (Kingdom of Saudi Arabia), UAE, South Africa.
İLİŞKİLİ ÜRÜNLER
You have reached the end of the list.