FAP-425-O, Interactive Optical Smoke Detector
FAP-425-O, Interactive Optical Smoke Detector
Bosch, Analog addressable detector with one optical sensor. Automatically addressable.
Detection Area: 120 m²
Max. Installation Height: 16m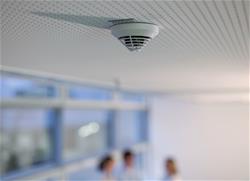 AVENAR detector 4000 is a new range of automatic fire detectors featuring a superb accuracy and swiftness in detection. The versions with two optical sensors (dual‐optical) are able to detect the lightest smoke. The range includes versions with rotaries, manually and automatically addressable, and versions without rotaries for automatic address setting.
The optical sensor uses the scattered-light method. An LED transmits light to the measuring chamber, where it is absorbed by the labyrinth structure. In the event of a fire, smoke enters the measuring chamber and the smoke particles scatter the light from the LED. The amount of light hitting the photo diode is converted into a proportional electrical signal.
The dual-optical versions use two optical sensors with different wavelengths. The Dual-Ray technology works with an infrared and a blue LED so that lightest smoke is detected fast and reliably (TF1 and TF9 detection).
All Automatic Fire Detectors provide the highest level of intelligent fire protection thanks to algorithms and integrated alarm sample comparison
Deviation compensation allows continuous and efficient system response
Alert features can be programmed to provide fast, reliable fire detection under all ambient conditions
Analog data can be read for diagnostics (operating hours, valid measured values of O, T and C sensors)
The special cleaning device on the back of the detector allows easy cleaning of the optical chamber
| | | | | | | | | | |
| --- | --- | --- | --- | --- | --- | --- | --- | --- | --- |
| Model Code | Sensor | Number of Sensors | Detection Area | Max. Installation Height | Address Setting | Detector Base Model Code | Color Code | Dimensions(without Base) | Weight(With Packaging) |
| FAP-425-O | Smoke | One Optical | 120m² | 16m | Automatically | MS-400 | No Marking | Ø 99,5 x 52 mm | 115gr |
| FAH-425-T-R | Heat | One Thermal | 40m² | 7,5m | Manually / Automatically | MS-400 | Red Loop | Ø 99,5 x 52 mm | 120gr |
| FAP-425-O-R | Smoke | One Optical | 120m² | 16m | Manually / Automatically | MS-400 | No Marking | Ø 99,5 x 52 mm | 115gr |
| FAP-425-OT | Smoke, Heat | One Optical & One Thermal | 120m² | 16m | Automatically | MS-400 | Black Loop | Ø 99,5 x 52 mm | 115gr |
| FAP-425-OT-R | Smoke, Heat | One Optical & One Thermal | 120m² | 16m | Manually / Automatically | MS-400 | Black Loop | Ø 99,5 x 52 mm | 120gr |
| FAP-425-DO-R | Smoke | Two Optical | 120m² | 16m | Manually / Automatically | MS-400 | 2 Grey Loop | Ø 99,5 x 52 mm | 120gr |
| FAP-425-DOT-R | Smoke, Heat | Two Optical & One Thermal | 120m² | 16m | Manually / Automatically | MS-400 | 2 Grey Loop | Ø 99,5 x 52 mm | 120gr |
| FAP-425-DOTC-R | Smoke, Heat, Carbon Monoxide | Two Optical, One Thermal, One Chemical | 120m² | 16m | Manually / Automatically | MS-400 | 2 Yellow Loop | Ø 99,5 x 52 mm | 130gr |
Category
Category
Fire Alarm System
Fire Alarm System Specifications
Operation Type
Addressable
Product Type
Detector
Detection Type
Smoke