PNM-9320VQ, 5 Channel 4x 2MP / 5MP + 2MP 32x PTZ
PNM-9320VQ, 5 Channel 4x 2MP / 5MP + 2MP 32x PTZ
Never miss a thing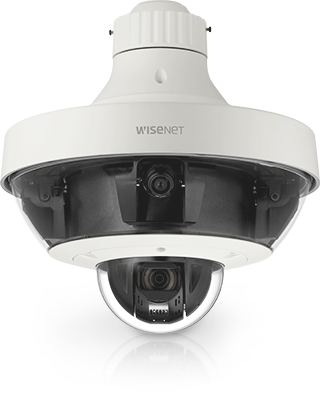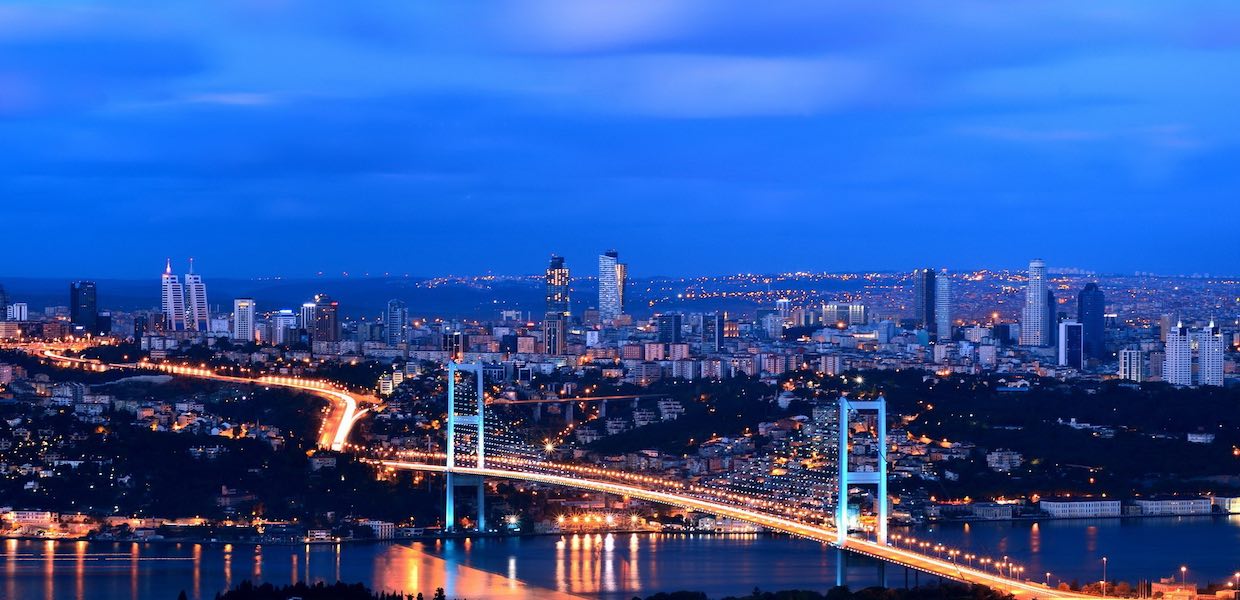 Wisenet Multi Directional + PTZ Camera
PNM-9320VQP
A comprehensive range of intelligent video analytics
Wisenet P series multi-sensor cameras support a variety of exclusive video and audio analytics, providing enhanced monitoring solutions and market intelligence.
* Supported video analytics may vary depending on the camera.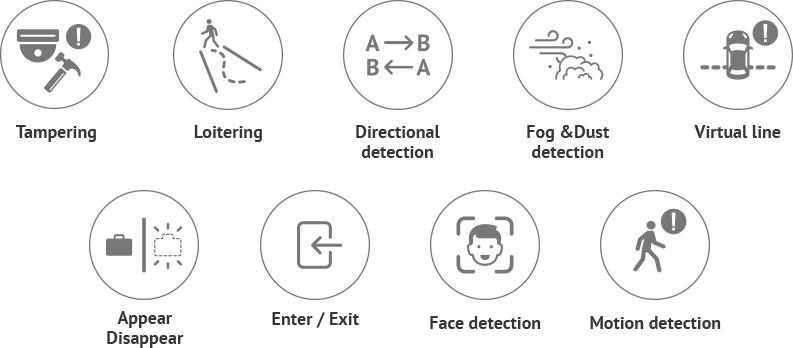 Selectable and replaceable camera lens modules (PNM-9320VQP only)
Users can choose a wide variety of lenses from 2M 2.4mm to 5M 7.0mm for PNM-9320VQP to create the most optimal field of view for their desired monitoring areas. Choose the 4 lenses of your choice and create a combination of lens module up to 20MP resolution for multi-directional camera..
1/2.8" 2M CMOS
Lens
SLA-2M2400P
SLA-2M2800P
SLA-2M3600P

Focal Length




(Zoom Ratio)

2.4mm
2.8mm
3.6mm
Angular Field of View
H : 135.4˚
V : 71.2˚
D : 161.6˚
H : 107.4˚
V : 62.2˚
D : 122.0˚
H : 94.8˚
V : 49.3˚
D : 114.3˚
Lens
SLA-2M6000P
SLA-2M1200P
Focal Length


(Zoom Ratio)

6mm
12mm
Angular Field of View
H : 50.4˚
V : 28.8˚
D : 58.1˚
H : 26.3˚
V : 14.9˚
D : 30.0˚
1/1.8" 5M CMOS
Lens
SLA-5M3700P
SLA-5M4600P
SLA-5M7000P
Focal Length


(Zoom Ratio)

3.7mm
4.6mm
7.0mm
Angular Field of View

H : 97.5˚
V : 71.9˚
D : 126.2˚
H : 77.9˚
V : 57.9˚
D : 98.7˚
H : 50.7˚
V : 37.8˚
D : 63.8˚
CCTV Product Class
Product Type
Camera
Operation Type
Network (IP)
Production Series
P Series
Camera Specifications
Resolution (Megapixels)
22MP (4x5MP+1x2MP)
Camera Type
Multidirectional
Power Option
HPoE
WDR Function
150dB
Shutter Speed (fps)
30 / 60
Protection Class
IP66
Outdoor?
Yes.
Day and Night Function
True Day Night
Extra Function
4 Camera 360˚ Viewing Angle
Camera Lens Type
4xFixed + 32X Zoom Lens